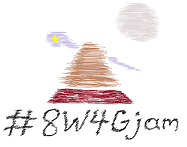 Interstellar Invention
Interstellar Invention is the first game produced as a part of the Eight Weeks, Four Games Jam (#8W4Gjam) initiative by Sylver's Edge.

Guide our intrepid Soviet engineer, Roksana, as she manipulates the many consoles in the Soviet satellite development room to aid in the construction of Sputnik II!
Match up the puzzles, build up the progress meter, check off all the available consoles, make it to endgame, and watch as the pride of Mother Russia soars into the sky!
---
General Controls (Also Listed in "Instructions" on Main Menu):
Mouse (Left Click) - Click & Drag Puzzle Blocks (Console)
Enter - Progress Through Static Screens
A - Move Left
D - Move Right
W / S - Climb Up Ladder / Climb Down Ladder
Y - Activate Console
Spacebar - Jump (Terminal) / Speed Up Puzzle (Console)
---
Version 1.01 Changes
The touch stuff kinda broke the game. It's now gone.
Version 1.0 Changes
Fixed font issues, since I was dumb with using a custom font with text objects.
Added support for mobile devices... I think. Still tinkering with that. I only added it in after finding out that it worked on Chrome for Android. (Actually, I ran some tests, and it didn't work! Well... it's in there, anyways.)
Made an edit to the URL in the #8W4Gjam splash screen. That now is tiny.cc/8W4Gjam!